Trump vs. the First Amendment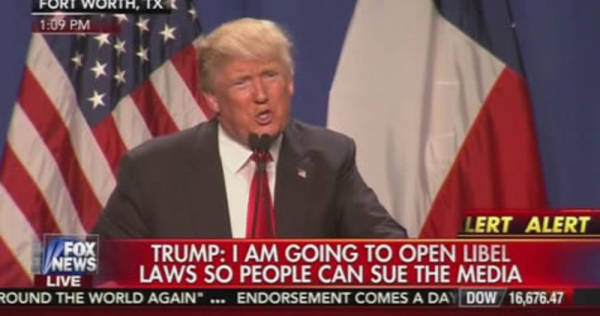 During a rally in Fort Worth, Texas, Trump began his usual tirade against newspapers such as The New York Times and The Washington Post, saying they're "losing money" and are "dishonest." The Republican presidential candidate then took a different turn, suggesting that when he's president they'll "have problems."
One of the things I'm going to do if I win, and I hope we do and we're certainly leading. I'm going to open up our libel laws so when they write purposely negative and horrible and false articles, we can sue them and win lots of money. We're going to open up those libel laws. So when The New York Times writes a hit piece which is a total disgrace or when The Washington Post, which is there for other reasons, writes a hit piece, we can sue them and win money instead of having no chance of winning because they're totally protected,
(h/t Politico, National Review)
Reality
Freedom of the press in the United States is protected by the First Amendment to the United States Constitution. This clause is generally understood as prohibiting the government from interfering with the printing and distribution of information or opinions.
If a President Donald Trump does attempt to go after journalists and media outlets it would be a clear violation of the constitution and highly anti-American.
Media